Happy client after successful installation!
Vacuum technology is used in a large number of applications and is needed as an aid to be able to produce good quality and products. Vacuum technology is also used in food production, even diligently!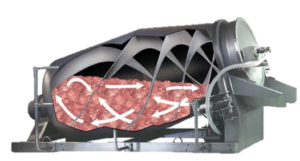 Before the summer, we became aware that Gudruns AB, a producer of; sausages, hams, casseroles and pies, experienced challenges with leakage and frequent maintenance on their vacuumpump and their machines. Furthermore, it was thought that the sound level was far too high.
The machine in question is a so-called tumbler that is used to prepare many meat products, seafood. A porpoise resembles a great kitchen assistant with a little imagination. It rotates, or tumbles, the products so that during the preparation you can introduce, among other things, marinades and spices. The treatment takes place under controlled temperature and under vacuum. The process is also used to marinate or tenderize meat products.
Vacuum enables the products to make the brine, seasoning or marinating penetrate far into the food. Sometimes vacuum is also used when thawing products. Water vapor is introduced under low pressure (around 50 mbar) and can then thaw the food without it becoming room temperature. It can be expressed as going from frozen to chilled.
Oil-tight lamella vacuum pumps are often still used in the food industry, necessary to be defended with low investment costs. More rarely, however, time spent on service and costs for operation and maintenance are mentioned.
During the spring, Low2High Vacuum offered a pump for testing to Gudruns AB. The pump was installed quickly and easily and production could continue shortly. The pump that was installed was the new Leybold Novadry ND65. The real flagship of the future for the food industry.
After the test period, the pump's performance and sound level were evaluated. The customer announced that they were extremely satisfied. The operating costs for service and maintenance are so low that they are not even comparable to oil-tight pumps in sensitive and hygienic environments.
Once again, Low2High Vacuum was able to show that it breaks barriers by introducing innovative ways of thinking with newly developed technology. We raise the bar in most industries.
During the autumn, Low2High Vacuum will show more stakeholders and customers who want to replace their old oil-tight equipment with modern, oil-free and energy-efficient technology.